I2S Linescan Identity & Mission
Identity

i2S LINESCAN, is a global supplier of surface inspection and process optimization solutions for the non-woven, glass, plastic and paper industries.
Conveniently located near major global manufacturing sites, i2S Linescan has offices in France (Bordeaux), China (Shanghai) and the United States (Connecticut). Each of these locations acts as a transfer hub for our solutions, offering sales, local adaptation, services and support to customers in those regions.
This organizational structure fosters customer-centered, long-term relationships by focusing on an understanding of new and existing client needs and expectations coupled with evolving markets trends. Our R&D, Manufacturing and Marketing teams deliver turnkey, relevant and innovative time-to-market solutions.
For example, through a modular and open framework architecture (linear cameras, multi sensors, smart classification software, interactive interface tools, etc.), FLAWSCANTM systems monitor in real-time, ensuring 100% inspection of your production.
Another example is our Smart Classifier software which classifies defects by origin and supplies complete and detailed information for better traceability. This useful tool enables early decisions and actions, resulting in a faster Return on Investment.
Mission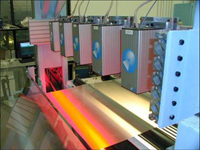 Our mission is comprehensive, and ranges from manufacturing made-to-order turnkey solutions to assisting our customers in achieving their objectives:
Assured Production Quality
Increased Yields & Reduced downtime
Reliable statistical information on the process
Comprehensive and Ergonomic systems
Service and application support for system optimization
But also includes:
The apability to adapt the inspection system to different types of products
Penetration of new markets with higher quality standards
 and:
Modular systems meeting specific customer expectations, whether it be a simple cost-effective solution or a more advanced system for maximizing customer return on investment
  i2S LINESCAN offers a Comprehensive Vision for Enhancing your Productivity.