Biomédical santé
Biomedical and health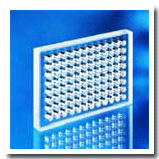 In the clinical biology sector, the increasing automation of diagnostic equipment fulfills several objectives:
The development of standardized biological tests of quality: reliable, fast and efficient
The creation of new methodologies for preventive medicine
The controlling of health care costs by providing concrete solutions to the economic constraints experienced by private laboratories and hospitals
The technological innovations experienced over the past few years in the field of biological diagnostics have been matched by an evolution in the operation and organization of laboratories. Mastery of laboratory instruments has become an essential element in the quality of the results obtained and requires good knowledge of metrology, and its basic concepts.
Similarly, driven by regulatory texts and international standards, the equipment offered has become more and more automated and now integrates special software. The market supply remains highly diversified which makes it possible to select equipment matching the laboratory's requirements.
The contribution of vision technologies
In the field of clinical biology, the technologies of digital vision, optronics and image processing are making a major contribution to the technological advancement and full automation of the equipment available on the market.
The integration of an imaging solution into the core of microbiological analysis equipment makes it possible to perform repetitive, reliable, quick and precise measurements, thereby freeing the operator from repetitive tasks that could affect the objectivity of the analyses.
i2s OEM Devices's product offering
In this area, i2S Vision offers innovative and high-performance solutions. In doing so, the company draws on its long experience in the manufacturing of industrial cameras and the acquisition over 25 years of unique know-how such as high-quality image capture, the integration of original optronic solutions and the development of custom image processing algorithms.
i2S Innovation's R&D department is responsible for the design, development and application of appropriate technologies for the solutions offered by i2S Vision. The Industrialization department is responsible for qualification, compliance with standards and production of solutions.
i2S VISION innovative solutions are based on multiple areas of expertise and know-how:
expertise in CCD CMOS sensors in the UV, Visible and Near Infrared domains
mastery of analog signal processing technologies and optimization of dynamic signal digitization
synchronization on external processes
opto-electronic and multi-sensor integration

Design and manufacturing of custom lighting and optronic systems
navigation of multi-motorized lenses
design, development and manufacturing of cameras and intelligent systems
system miniaturization
Development and optimization of image processing and metrology algorithms
MMI development
and on an in-depth knowledge of our customers, their business and their requirements, both technical and economic.

Advantages of the solutions proposed by i2S OEM Devices
By entrusting i2S OEM  Devices with your diagnostic equipment, you can count on:
our innovation and production capabilities
cooperative engineering
software tailored to your requirements
professional project management
our anticipation of new technologies and their usages
cost control from the design stage
 
What are the benefits?
use of technologies and innovations from other disciplines
gradual incurring of expenses versus cost objectives
innovative and collaborative technology transfer between technical teams
faster adoption of technical advances
international support
flexibility of production capacity
long industrial lifetime and international maintenance